20 examples of client-based graphic design
Sowell Family Collection Brochure (TTU)

This is a gate-fold brochure for the Sowell Family Collection of natural history writers, Texas Tech University. Using varnish, metallic silver ink and a cloudscape panorama (stitched together digitally) my goal was to create a long landscape that opens to an introspective interior.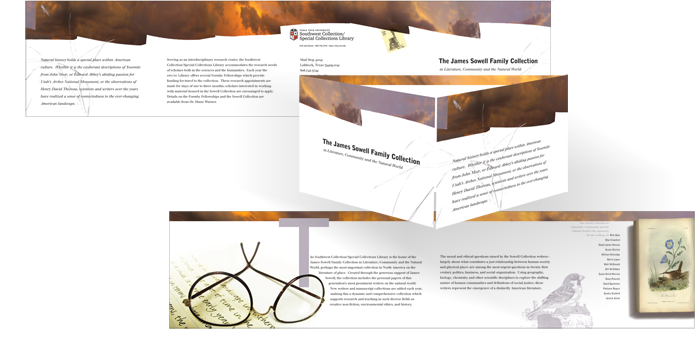 This work won an Award of Excellence from the University and College Designers Association and was displayed in Toronto in October 2007. In June of 2008, it won the American Library Association Best of Show competition in the Services Available/Orientation Materials/Policy Materials category, and was displayed in San Diego.
Beyond Print poster/catalog
Printed using soy inks on a recycled stock, this poster folds to an accordion-fold catalog. Untrimmed, color bars, crop marks etc. were left on the piece. The low waste and dual-purpose earned this a Gold award in the green production category of the 2009 University and College Design Association's annual awards in Seattle. In 2011, it won an award of excellence from the New Mexico chapter of the AIGA and was displayed in Santa Fe.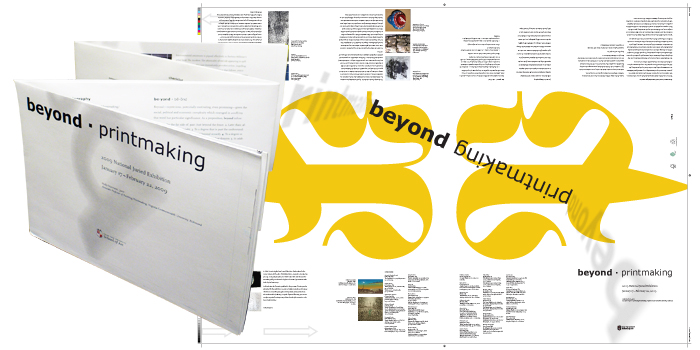 |
¿Y QUÉ? Exhibition Catalog (TTU)
The title of this exhibition of Texas Artists translates to 'So What?'
An identity for the show was made of a Gothic or black letter font and reproduced in process magenta. Letterforms like this are often used in tattoos, show up frequently in Mexico and Latin America, and seemed appropriate for the Spanish title.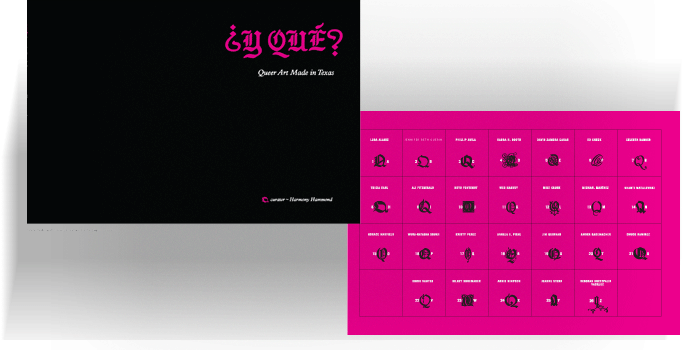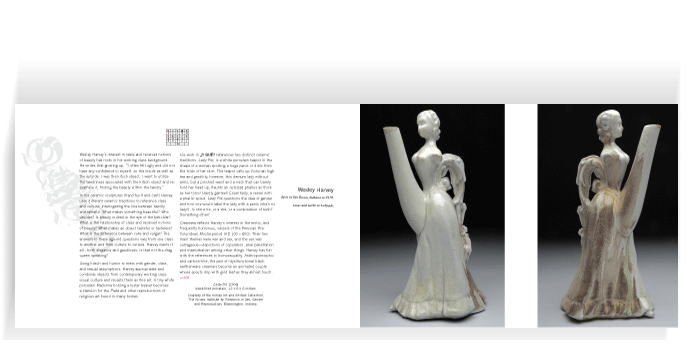 Gloria Steinem Poster
Inspired by the paper dresses of the late 1960s, this poster could be cut and folded to make an A-line dress.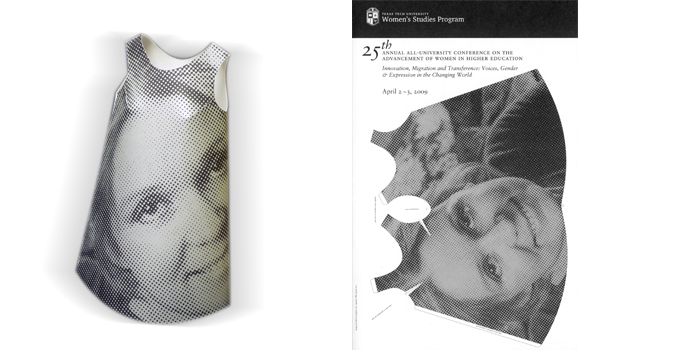 Below: a paper dress by designer Harry Gordon, ca. 1969.